Skijaško trčanje
Valbruna - Val Saisera - Tarvisio
840 - 1.040m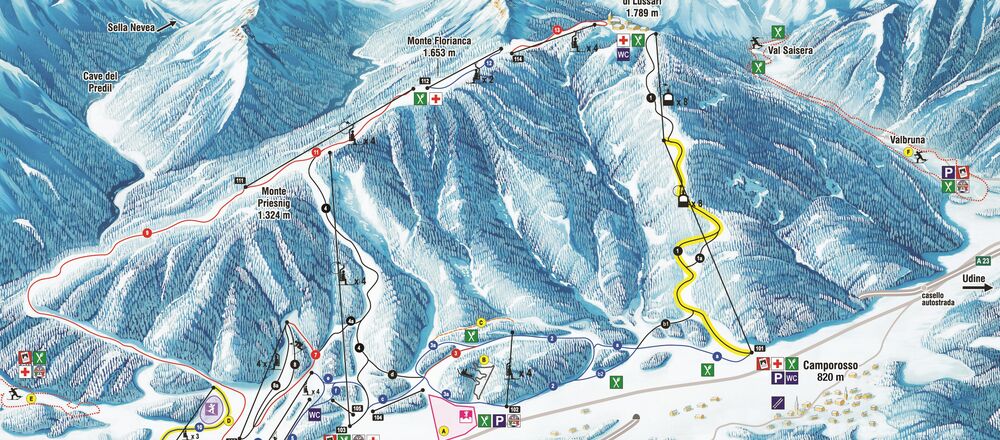 Trkačke staze Danas, 04:01
Derzeitiger Betrieb: zatovrena
The Saisera Valley, in Malborghetto-Valbruna, is one of the most beautiful valleys in the Tarvisio area.
The valley is sunny and you can choose from two trails: Bassa Saisera and Alta Saisera.
"BASSA SAISERA"
Height: 843 - 931 m
Length : 7.5 Km
Difficulty: medium
"ALTA SAISERA"
Height: 931 - 1036 m
Length: 7.5 / 12 Km
Difficulty: medium
Facilities and services
Equipment hire
Bar - restaurant (independently run)
GENERAL INFORMATION:
PromoTurismoFVG
Infopoint di TARVISIO
Via Roma, 14
33018 Tarvisio (UD)
Tel. +39 0428 2135
info.tarvisio@promoturismo.fvg.it
How to get there:
About 6 Km from Tarvisio in the direction of Udine, follow the signs to Valbruna on the left. From the village follow the signs to the Val Saisera valley; the "Bassa Saisera" ski run starts near the Austro-Hungarian Cemetery. The "Alta Saisera" ski run starts across the valley, near the Locanda Jof di Montasio inn.
---
Aktualne informacije o stazama
Web-stranica

E-Mail

Telefon

+39 0428 2135
Trkačke staze Pregled
klasične trkačke staze
40 km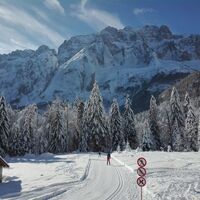 Razno
Najam
Skije za skijaško trčanje Usluga
Kontakt Turistički ured
PromoTurismoFVG Tarvisio
Adresa

I-33018 Tarvisio

Telefon

+39 0428 2135

E-Mail

Homepage