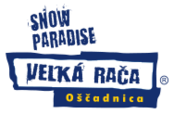 Skijaško područje

Snow Paradise Veľká Rača

640 - 1.050m
Aktuelle InformationenDanas, 08:14
Vučnice
Radna vremena Zima
Sezona

14.12.2019 - 13.03.2020

Betrieb

08:30 - 20:30
Nachtskilauf 17:30 - 20:30 Uhr
25.12.2019 - 6.1. 2020 täglich
7.1. 2020 - 7.3.2020 täglich außer Sonntag
bis 21.12.2019 and ab 11.3.2020: Mittwoch, Freitag, Samstag
Skijaške staze
Početnici

n.p.

lagano

5,4 km (7)

srednje

6,5 km (7)

teško

1 km (1)

ukupno

12,9 km
Skijaško područje
The international ski resort Snow Paradise Velka Raca is near Oščadnica and Kysucou, in the Kysucké Beskydy. Due to the geographical proximity to the Czech and Polish border, the ski resort is easily accessible.
The ski area extends into its area on three different but interconnected areas - Dedovka, Marguška and Lalíky. There are slopes for all levels, so that skiers and beginners will get their money's worth.
The services offered are diverse - school and kindergarten, ski, ski service, ski rental and sports shop.
To experience it is also the adrenalin toboggan run, which represents the biggest attraction in the resort.
Of course we also offer night skiing.
There are almost 14 km of regularly groomed slopes, all covered with artificial snow. The number of tracks includes: 13 of which 7 are blue, 4 red, 2 black.
Lovers of cross-country skiing can also get their money. There are hiking trails, which in Dedovka have their start at the mountain station of the chairlift.
Kontakt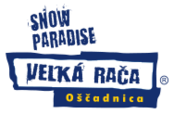 Snow Paradise Veľká Rača - Oščadnica
Dedovka 40, SK-02301 Ošcadnica
Telefon

Snježni telefon

TELEFAKS

Početna stranica
Web kamere
Najpopularnija skijališta