Hotel St. Oswald
9546 Bad Kleinkirchheim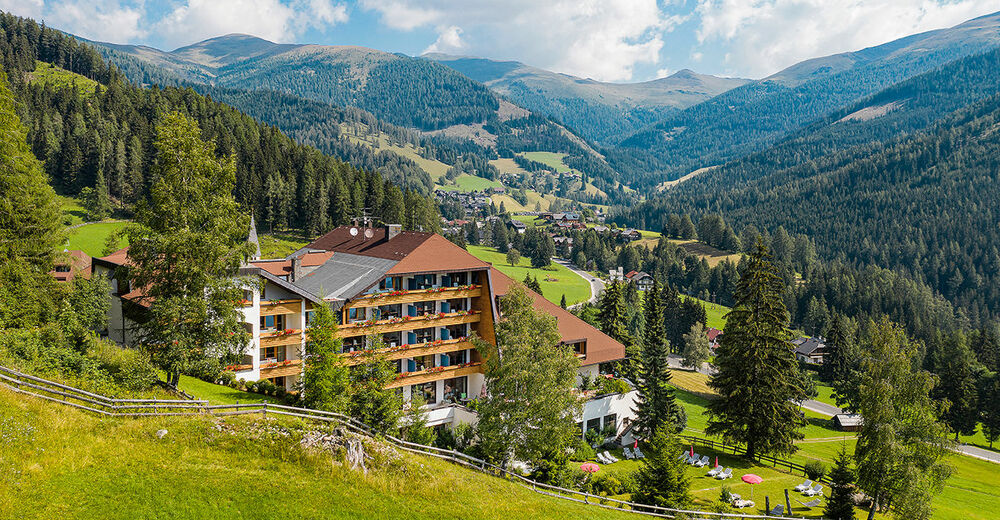 Foto Atelier Wolkersdorfer
Foto Atelier Wolkersdorfer
Foto Atelier Wolkersdorfer
Foto Atelier Wolkersdorfer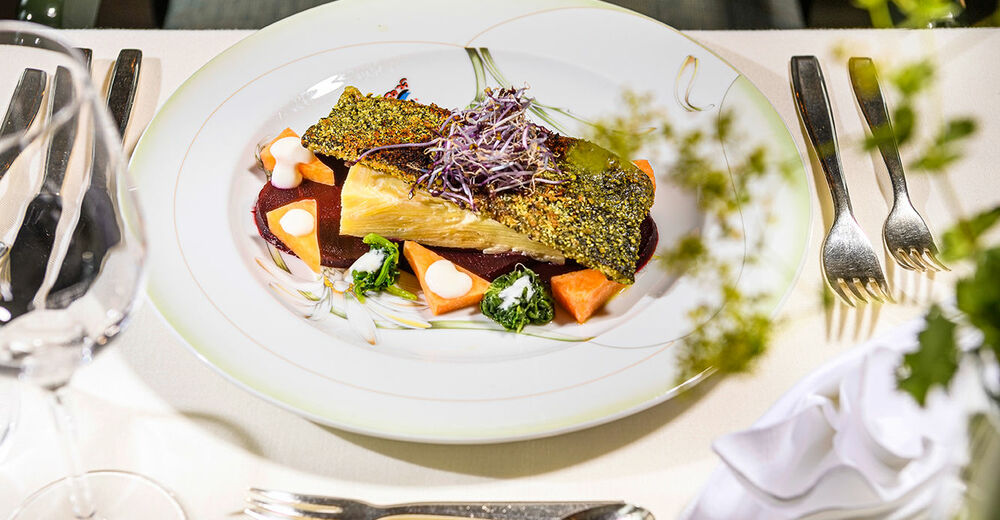 Foto Atelier Wolkersdorfer
Foto Atelier Wolkersdorfer
The Holiday-Hotel St. Oswald - this is your house at the best place!
Highlights in and around the hotel:
53 rooms, apartments and luxury suites with a lot of comfort, space and love for details
welcoming lobby with an open-hearth fire and bar for convivial evening get-togethers
restaurant with a traditional stove and "vinothek" for breakfast, lunch and dinner –
always with friendly service
excellent and big breakfast buffet with juice bar
afternoon lunch buffet with warm dish, salads and homemade sweets
evening 5-course-dinner with a menu to choose combined with a fine drink
recommendation
sunny terrace with panoramic views
pool and spa featuring a big indoor swimming pool, Finnish sauna, aroma steam bath,
infrared cabin, hot tub, Kneipp pool, plunge pool, exit directly into the outdoor area
beautiful, large sunbathing lawn with magnificent mountain scenery
"Tree of Life" creativity center, child care from Mon - Sat (ages 3 and up)
during the official holidays, children's playground
library – with books to leaf through, music to listen to
feel-good oasis featuring beauty and make-up treatments, massages, fitness room with
Total gym equipment
room for hiking boots and show shining machine
storage room for mountainbikes, e-bikes
storage and cleaning place for golf shoes and golf trolleys
parking for free and garages directly at the hotel
activity & enjoyment program according to the weekly hotel programme
two hotel own tennis courts with quartz-sand surface directly at the hotel
This year under certain circumstances!
The health of all of us is always our top priority. We work and use the drawn up catalogue of measures. We will maintain our inclusive services as well as possible with all necessary safety measures.
Some things will not be possible this year - but there are many things that you will perhaps be able to enjoy even more and will certainly consciously appreciate and love even more.
Allgemeine Verfügbarkeit Hotel St. Oswald
na upit
raspoloživo
nije raspoloživo
listopada 2021
KW
pon
uto
sri
čet
pet
sub
ned
1
2
3
4
5
6
7
8
9
10
11
12
13
14
15
16
17
18
19
20
21
22
23
24
25
26
27
28
29
30
31
studenoga 2021
KW
pon
uto
sri
čet
pet
sub
ned
1
2
3
4
5
6
7
8
9
10
11
12
13
14
15
16
17
18
19
20
21
22
23
24
25
26
27
28
29
30
svibnja 2022
KW
pon
uto
sri
čet
pet
sub
ned
1
2
3
4
5
6
7
8
9
10
11
12
13
14
15
16
17
18
19
20
21
22
23
24
25
26
27
28
29
30
31
lipnja 2022
KW
pon
uto
sri
čet
pet
sub
ned
1
2
3
4
5
6
7
8
9
10
11
12
13
14
15
16
17
18
19
20
21
22
23
24
25
26
27
28
29
30
srpnja 2022
KW
pon
uto
sri
čet
pet
sub
ned
1
2
3
4
5
6
7
8
9
10
11
12
13
14
15
16
17
18
19
20
21
22
23
24
25
26
27
28
29
30
31
kolovoza 2022
KW
pon
uto
sri
čet
pet
sub
ned
1
2
3
4
5
6
7
8
9
10
11
12
13
14
15
16
17
18
19
20
21
22
23
24
25
26
27
28
29
30
31
rujna 2022
KW
pon
uto
sri
čet
pet
sub
ned
1
2
3
4
5
6
7
8
9
10
11
12
13
14
15
16
17
18
19
20
21
22
23
24
25
26
27
28
29
30
listopada 2022
KW
pon
uto
sri
čet
pet
sub
ned
1
2
3
4
5
6
7
8
9
10
11
12
13
14
15
16
17
18
19
20
21
22
23
24
25
26
27
28
29
30
31
studenoga 2022
KW
pon
uto
sri
čet
pet
sub
ned
1
2
3
4
5
6
7
8
9
10
11
12
13
14
15
16
17
18
19
20
21
22
23
24
25
26
27
28
29
30
prosinca 2022
KW
pon
uto
sri
čet
pet
sub
ned
1
2
3
4
5
6
7
8
9
10
11
12
13
14
15
16
17
18
19
20
21
22
23
24
25
26
27
28
29
30
31
Ponude Zima Hotel St. Oswald
Cijene
| Zima | Glavna sezona | Vor-/Nebensaison |
| --- | --- | --- |
| Noćenje | - | - |
| s doručkom | 112 € do 253 € | 102 € do 230 € |
| Polupenzion | 128 € do 269 € | 116 € do 244 € |
| All-inclusive | - | - |
| Ljeto | Glavna sezona | Vor-/Nebensaison |
| --- | --- | --- |
| Noćenje | - | - |
| s doručkom | 82 € do 179 € | 92 € do 159 € |
| Polupenzion | 109 € do 195 € | 99 € do 189 € |
| All-inclusive | - | - |
Ostale informacije
Suite Wildrose (Suite)
| 3/4 Pension
Ortstaxe
pro Person / pro Nacht
Aufenthaltsdauer: Garagenplatz
od 1 Noćenje
+ 20,00 €
pro Objekt / pro Noć
Double room with south balcony Tannenzapfen (Double room)
| 3/4 Pension
Ortstaxe
pro Person / pro Nacht
Aufenthaltsdauer: Garagenplatz
od 1 Noćenje
+ 20,00 €
pro Objekt / pro Noć
Single suite light ash (Einzelzimmer)
| 3/4 Pension
Ortstaxe
pro Person / pro Nacht
Aufenthaltsdauer: Garagenplatz
od 1 Noćenje
+ 20,00 €
pro Objekt / pro Noć
Single room (Einzelzimmer)
| 3/4 Pension
Ortstaxe
pro Person / pro Nacht
Aufenthaltsdauer: Garagenplatz
od 1 Noćenje
+ 20,00 €
pro Objekt / pro Noć
Suite superieur Sonnentau (Juniorsuite)
| 3/4 Pension
Ortstaxe
pro Person / pro Nacht
Aufenthaltsdauer: Garagenplatz
od 1 Noćenje
+ 20,00 €
pro Objekt / pro Noć
Apartment Spatzennest (Familienzimmer)
| 3/4 Pension
Ortstaxe
pro Person / pro Nacht
Aufenthaltsdauer: Garagenplatz
od 1 Noćenje
+ 20,00 €
pro Objekt / pro Noć
Grande suite Storchennest (Suite)
| 3/4 Pension
Ortstaxe
pro Person / pro Nacht
Aufenthaltsdauer: Garagenplatz
od 1 Noćenje
+ 20,00 €
pro Objekt / pro Noć
Luxury suite for families Max & Moritz (Suite)
| 3/4 Pension
Ortstaxe
pro Person / pro Nacht
Aufenthaltsdauer: Garagenplatz
od 1 Noćenje
+ 20,00 €
pro Objekt / pro Noć
family combination (Familienzimmer)
| 3/4 Pension
Ortstaxe
pro Person / pro Nacht
Aufenthaltsdauer: Garagenplatz
od 1 Noćenje
+ 20,00 €
pro Objekt / pro Noć
Grande suite superieur Sterntaler (Suite)
| 3/4 Pension
Ortstaxe
pro Person / pro Nacht
Aufenthaltsdauer: Garagenplatz
od 1 Noćenje
+ 20,00 €
pro Objekt / pro Noć
panorama-luxury suite Silberdistel with own finsih sauna (Suite)
| 3/4 Pension
Ortstaxe
pro Person / pro Nacht
Aufenthaltsdauer: Garagenplatz
od 1 Noćenje
+ 20,00 €
pro Objekt / pro Noć
More details and your personal request you will find under www.hotel-st-oswald.at - Prices & Booking - Pricecalculator
Soba/Apartmani
Vrste plaćanja

in CASH, per Credit card Mastercard or VISA