Prenoćišta
Alpin- und Wellnessresort Stubaierhof
- Fulpmes
Alpin- und Wellnessresort...
6166 Fulpmes im Stubaital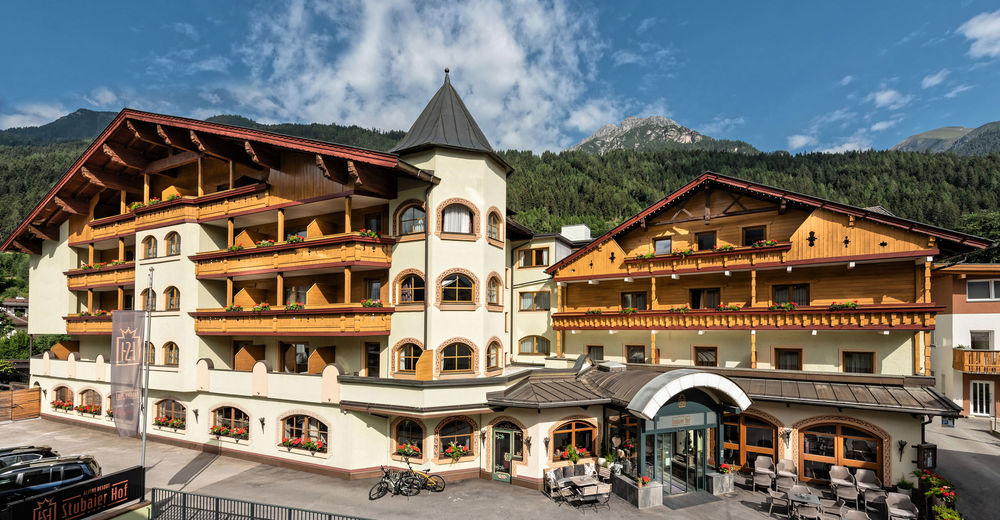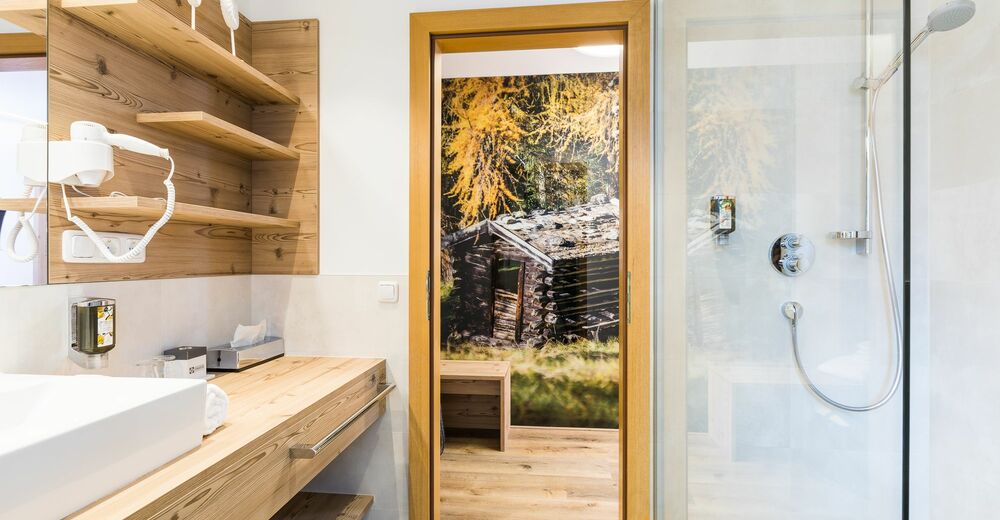 A warm welcome to "Aktiv- & Wellnesshotel Stubaier Hof"
Our resort involves 2 houses alongside the main house - South House Alpin and West House Alpin - all of them are connected to our main house with a hallway.
We have two wellness area. Stroll among our different saunas, enjoy the afternoon sun in the panoramic swimming pool with direct access to the garden "Postgartl".
Or relax in the classic bath, here you also have the opportunity to relax in the wellness garden, or to recharge your batteries between the sauna sessions.
Culinary
Treats for the taste-buds, aesthetic to the eye, and a pleasure for body and soul. Our kitchen provides for the connoisseur and good food lover.
Excellent ingredients carefully prepared and presented. Selected wines from our wine cellar top it all.
Wellness & Beauty
Let yourself be pampered to revitalize body and soul. We rely on the powers of nature through water, warmth, herbs and massage-techniques, leaving you with a deep sense of well-being. Our wellness and beauty department "Aqua Sanus" offers extensive and exclusive massages, health applications and relaxing baths (cleanings). Everything according to individual needs. Under skillful hands, indulge yourself in the harmonious atmosphere. Specially selected top products assist us.
spa offers
indoor swimming pools
sauna etc.
steam bath
ice fontane
relaxing rooms
gym
-outdoor whirlpool
The favoured Stubaierhof inclusive services
welcoming cocktail
richly assorted, hearty breakfast buffet with
wholesome local farm products
afternoon-snack
selective evening menu including vegetarian and diet dish
varied salad buffet freshly prepared each day
once a week a theme buffet
use of our wellness area "Aqua Sanus":
bath robes for duration of stay
adventure indoor swimming pool, room-sauna, bio-sauna, Finnish-sauna, Infrared-deep-heat-bath
salt-water steam bath, relaxation oasis
fitness room, solarium (at an extra charge)
underground parking (limited)
free wireless-lan in the whole hotel lobby, bar area, seminar rooms and the majority of rooms (security restrictet internet connection)
partially free LAN in the rooms (security restrictet internet connection)
internet-cafe in the whole lobby (security restrictet internet connection)
in summer free mountain bike rental
children play-room
We are looking forward to seeing you - Family Deutschmann and the Stubaier-Hof-pamper-team
Raspoloživost
Alpin- und Wellnessresort Stubaierhof
Ponude Ljeto
Alpin- und Wellnessresort Stubaierhof
Ponude Zima
Alpin- und Wellnessresort Stubaierhof
Cijene
Weihnachten / Neujahr
18.12.2021 - 25.12.2021
02.01.2022 - 07.01.2022
Winter Nebensaison
08.01.2022 - 04.02.2022
05.03.2022 - 08.04.2022
19.04.2022 - 22.04.2022
Februar / Ostern
05.02.2022 - 04.03.2022
09.04.2022 - 18.04.2022
Preis auf Anfrage außerhalb der Saisonzeiten
Vrste plaćanja
Bar, Mastercard, Visa, Diners Club
Napomene:
Prices in Euro per Person/day with HB or BB for a minimal stay of 4 nights (plus local tax of € 2,80 per Person/day)
Price for single occupancy: € 10,– surcharge
Supplement for short stay until 3 nights Euro 7,--
Stubaierhof children's prices
Families feel really well in our generous rooms and appartments.
Reduction for children summer 2019 in doublerooms and suites
0 – 6 years free
7 – 12 years -50 %
13 – 99 years -20 %
Reduction per child and day of the room's price including the Stubaier Hof 3/4 Gourmetboard. If 2 children share one doubleroom or one suite, 1 child will be charged as an adult.