Audio Adventures in the Lötschental
Available in Summer 2013 - currently only in German
There's not only lots to see and do but also lots to hear In the Lötschental. Each audio tour introduces you to one of the four Lötschental villages. Become your own village guide and enjoy interesting insights into the history of the Lötschental on a signposted route around the villages. These are not just anonymous people speaking on the tour, but rather people from the Lötschental itself telling their stories.
On tour with an app or iPod
The Lötschental app enables you to enjoy the audio tours on your smartphone or on an iPod that you can borrow free of charge at a number of lending venues.
Lötschental app
The Lötschental audio tours are integrated into the popular Lötschental app. Download the Lötschental app onto your iPhone or Android phone to be able to use the audio tours. You can either download the Lötschental app in the App Store or Google Play Store by entering "Lötschental".
Then select your preferred audio tour and save it offline. The "Save" function is located in the top right-hand corner of the Tours overview. Saving the app offline guarantees a smooth audio track, even when you have no network connection and will save you unnecessary Internet charges.
Press the corresponding earphone symbol on the interactive map to start the audio tour.
iPod lending venues
Simply swap your ID for an iPod at one of our five lending venues: Each lending venue has two iPods available.
Ferden: Hotel Restaurant Ambord
Kippel: Hotel Restaurant Lötschberg
Wiler: Hotel Restaurant Sporting and Lötschental Tourist Office
Blatten: Hotel Restaurant Edelweiss
All of the lending venues are close to the start of the respective audio tours. Simply switch on the iPod, plug in the earphones and follow the menu.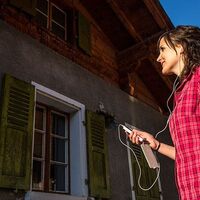 Kontaktne informacije
Daljnje informacije:
www.loetschental.ch/audio
Upiti na:
info@loetschental.ch

Pronaći smještaj Lötschental
Web kamere