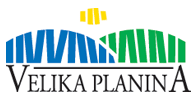 Učna pot Po stopinjah pastirjev
An educational and interesting learning trail that takes you through Velika planina has several entry points. One of the entry boards with a map and points along the learning route is located at the lower station of the cable car. Along the route, which takes about two hours to walk, you will find many interesting things about living on Velika planina, about customs, architecture, how pastors once lived, and about the natural sights offered by Velika planina.
Each of the eleven teaching tables describes one feature of Velika planina, named Top, Shepherd's Day, Architecture, "Nebeškanje", Listen, Stone Gate, Plants, Animals, Narrative Creatures, Heaven and Windmill. In addition to the entry point at the lower station of the cable car, you can also find the entry points at the upper station of the cable car, the upper station of the chairlift, on the way to Sv. Primoz above Kamnik and Podvolovljek. Trails is in slovenian ang english.
Kontaktne informacije
Daljnje informacije:
http://www.velikaplanina.si/aktivnosti/poletne/...
Upiti na:
booking@velikaplanina.si