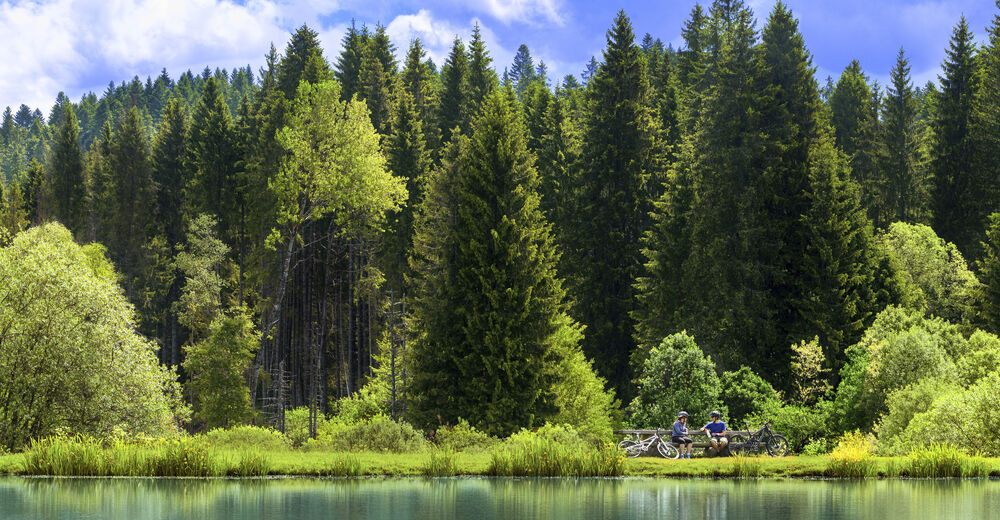 The Canton of Jura welcomes you in unspoilt natural surroundings.
SPORTS AND LEISURE
With its gently rolling hills and picturesque medieval towns, the region offers a plethora of sights to discover and is ideally suited for outdoor sports all year round. Golf, rock climbing, canoeing, scootering, horseback riding, cross-country skiing or mountain-biking – the Jura offers a wide range of activities in a spectacular natural setting. And if you prefer to discover these pristine surroundings at a more leisurely pace, over 1,000km of signposted trails await you.
LAND OF HORSES
As the cradle of Switzerland's only horse breed, the Freiberger or Franches-Montagnes, the Jura offers numerous horse activities: rides on horse-drawn carts, fondue carts and gourmet carts; visits to horse-breeding farms; covered wagons... Stay 2 nights or more in the region and get a free one-hour horseback ride !
CULTURE
Learn more about the Jura's identity in all its diversity by partaking in various cultural activities. Many museums, classical and contemporary art galleries, open-air exhibitions such as "Balade de Séprais" and historic sites are there to satisfy your curiosity. For example, did you know that the Jura boasts the largest density of modern church windows in Western Europe?
And for lovers of old stonework, the Jura towns with their well-preserved centres are well worth a detour, whether it's Delémont, Porrentruy or the medieval town of St-Ursanne, also called "Pearl of the Doubs".
WATCHMAKING
With the Jura being considered the cradle of the watchmaking industry, make the most of your stay by visiting several museums dedicated to the subject of time: Espace Paysan Horloger, a museum that retraces the history and beginnings of modern watchmaking, the Museum of Watchcases or the Fondation Horlogère. You can even attend a workshop where you learn how to assemble your own watch, which you can then take home with you.
EVENTS
Given the canton's small size, you will encounter a friendly, rural feel everywhere and you will be welcomed with open arms. Immerse yourself in a world of traditions by participating in one of the many events that are held throughout the year. Put on your finest costume for the Carnaval du Jura, take part in a Saint-Martin's feast, travel back in time at the "Les Médiévales" festival in Saint-Ursanne or visit the Marché-Concours de Saignelégier and enjoy the unique atmosphere of a horse show.
FREE PUBLIC TRANSPORT
Spend one or more nights in the region and with your JURA-PASS enjoy free public transport as well as discounts on many activities!
---
Kontakt Kanton Jura

Jura Tourisme
Place du 23-Juin 6, CH-2350 Saignelégier
Telefon

Početna stranica
E-Mail
Planinske žičare Ljetni rad
Métabief
06.05.2023 - 24.09.2023 (1 Vučnica)
Web kamere