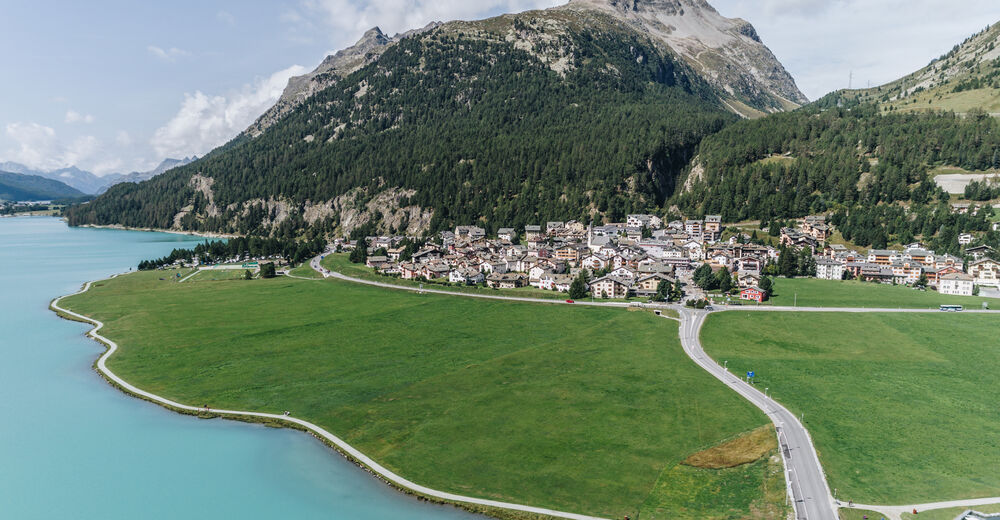 A lively and trendy holiday Resort
Everything except boring – Silvaplana is a lively and trendy holiday resort surrounded by breathtaking nature. And an absolute paradise for windsurfers and kiters.
This enterprising leisure paradise is set amidst the Engadin lake landscape. Surrounded by imposing three-thousanders, including the Corvatsch, the three districts of Silvaplana, Champfèr and Surlej form a charming cluster of holiday locations, offering a wide range of sports facilities and activities for everyone who is after a bit of adventure.
Benefiting the most from the reliable Maloja wind are, of course, the wind- and kitesurfers; here they can enjoy the best conditions for their sport far and wide. However, mountain bikers and hikers, too, will find an abundance of possibilities right on their hotel doorstep. And those who really want to switch off can get themselves a fishing rod and go off fishing. Equally as varied as the range of sports activities is the local hotel and gastronomy scene, which also presents itself as being agreeably young and trendy..
---
---
Savjeti za slobodno vrijeme Silvaplana
---
Kontakt Silvaplana

Engadin St. Moritz Tourismus AG
Via Maistra 1, CH-7500 St. Moritz
Telefon

TELEFAKS

Početna stranica
E-Mail
Upit i Naručivanje prospekta Prenoćišta
Mjesta Engadin St. Moritz
Planinske žičare Ljetni rad

Prenoćišta Silvaplana
Ponude i Paušali Silvaplana
Web kamere